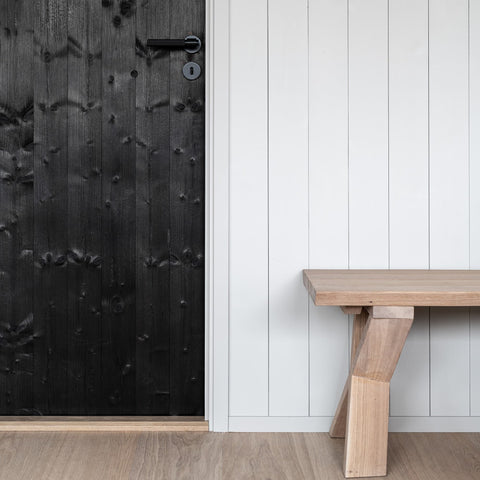 A Swedish-produced interior detail
When you choose a door from Njord, you can be sure that it is made of durable materials and has a well-thought-out and responsible design. We are committed to reducing our ecological footprint, and this permeates all areas of our operations. Sustainability is an integral part of our corporate culture.
We work actively to create sustainable interior doors, and this work already starts on the drawing board. We carefully consider which materials are most suitable, how the manufacturing process can be optimized to minimize the use of resources and how the product can be as environmentally friendly as possible throughout its life cycle. Sustainability has been a central part of our company philosophy since the beginning, and we strive to make sustainability a matter of course in everything we do.
Our interior doors are designed to last for generations, and we place great emphasis on manufacturing quality and material selection. When you choose an interior door from Njord, you are investing in a Swedish-produced interior detail that is the result of our pursuit of quality and durability.
Manufacturing
When you choose a solid interior door from us, you get several benefits, including improved sound insulation, long durability and superior quality.
Our doors are manufactured in our own factory in northern Scania and we use the latest machines, but all work is monitored and quality checked on an ongoing basis by skilled craftsmen. Final finishing, such as painting, polishing edges and corners, is always done by hand.
Each door is manufactured, painted and customized separately according to each order placed. When the doors, after a final inspection, are ready for delivery, they are carefully packed and packaged to minimize the risk of transport damage.